Welcome to Our Club
Kendo or 'the way of the sword' is the art of Japanese fencing as practiced by samurai for centuries.
Cornwall Kendo Club welcomes all levels from complete beginners through to experienced practitioners to study the arts of the Japanese sword. Under the tutelage of 5th dan Phil Booth and other highly experienced kendo practitioners you can rise the to the physical and mental challenge of Kendo. Learning this ancient Japanese art not only helps you keep fit but helps to teach respect and control of aggression. People of all levels of skill of physical ability are always welcome
We look forward to seeing you soon!
Join Us
Beginners Course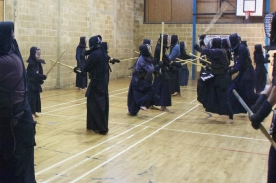 After a free induction lesson, come and enjoy the physical challenge of our beginners course which includes a thorough introduction to kendo basics, fencing technique and Nihon Kendo Kata, with a final grading to complete. Suitable for all ages.
8 week course costs £80.00, which includes a new bamboo sword (shinai). Temporary membership of the British Kendo Association (required) is £10.00
All other levels: Come to any or both of our twice weekly training sessions to learn new techniques and fence against other people of all levels.
When & Where?
Tuesdays
19:00-20:30 Penryn School,TR10 9DQ
Wednesdays
19:00-20:45 Ludgvan Community Centre near Penzance,TR20 8ES
What's On
Fujii Sensei Memorial Kendo Seminar
Kendo seminar in memoriam of Fujii sensei.